How does this whole thing work?
First we need talk about what you're looking for to make sure that we are a good match. Please send me a note through the contact page and we'll talk over email, phone, or in person depending on what works for you. We'll talk about goals, what to wear, preferred locations and anything else that is on your mind. We will also review pricing for all products to make sure you know exactly what to expect.
Session fees are $150 for family and high school senior sessions and $50 for children's studio sessions. The fee is due at the time of booking to ensure that that time is secured for you. The session fee is non-refundable and covers up to 3 hours of time together. (From time to time I also offer 10 minute mini-sessions at a reduced price with the goal of one or two images, generally for holiday cards or sports pics, if you think this is right for you please ask!) Leading up to that date please feel free to ask any other questions or send pics of wardrobe options. I will send you an email one week prior to confirm that we are still on.
On the day of the session, we meet either in studio or on location and let the fun begin! We generally finish in about an hour but sometimes it goes shorter or longer depending on how cooperative everyone is (I'm talking about you dad!) don't stress about anything, let the worrying up to me.
Within one week I will finish editing and be ready to share the gallery with you. We will then have a follow-up meeting to review the images, make any changes needed, and decide what to order. You only buy the photos that you like.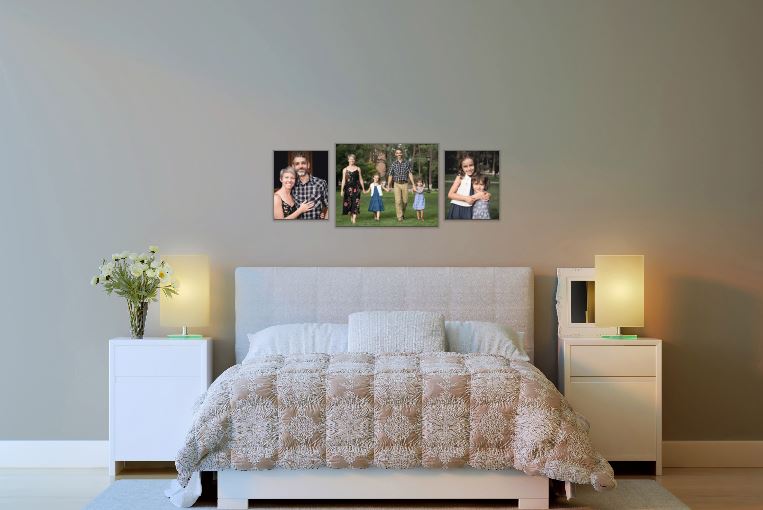 Not sure what sizes fit your space or what collection will look best on your wall? I design the right piece or collection specifically for you. Send me a picture of your space and I'll handle the rest!
I offer a full range of print and digital products, we will review all the options and pricing during the free consultation. Don't worry about the digitals, I include digital files for sharing with every print product ordered. Starting prices are listed is below, I offer many more options and love customizing something for your specific space. I will have your products ready in about a week, it's tough to wait once you see your photos! I only use professional printing labs that print on archival quality media that is guaranteed for 50+ years. I work with color calibrated monitors and have verified the color accuracy with each lab that I use, this means that you get true rendering of what you see.
Wall Art starts at $400
Albums start at $700
Prints start at $50
High School Senior packages start at $350